Radiation-Resistant Magnet
For the long and stable operation of magnets under the high radiation environment, all parts of the magnets, such as coils, cooling water pipes, cooling water valves, and thermo switches, have to be made of minerals.
Mineral Insulator Cable
We have successfully developed a MIC (Mineral Insulator Cable), which uses MgO as an insulator of a magnet coil.
Cross-sectional view of the MIC. Upper figure shows a HC(Hollow Conductor)-type MIC, and lower SC(Solid Conductor) type.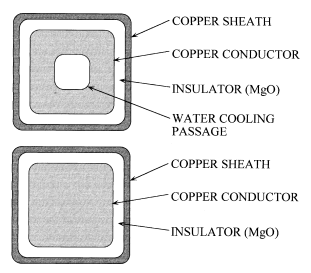 Photograph of cross-section of a HC-MIC.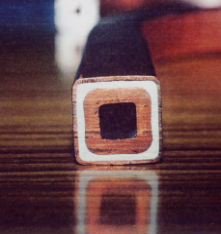 Photograph of a magnet with HC-MIC coils.