Hydrogen Target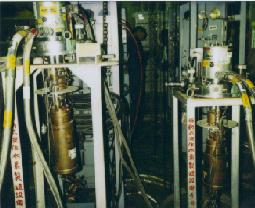 Herium Refrigerator with Hydrogen Condenser
Hydrogen Target is a small and movable apparatus.
We have four sets of system(No.1-No.4). The refrigeration Power at 20K is 8W(No.1,No.2) and 16W(No.3,No.4).
Components of the each set are mentioned below.
---
Each components are interconnected with flexible tube.
Hydrogen Condenser(added to above refrigerator).1liter(No.1,No.2),3liter(No.3),2liter(No.4)
Valve manipulation rack
Hydrogen gas purifier(rarely use)
Hydrogen gas tank. 1000liter(No.1,No.2),2000liter(No.3),3000liter(No.4)
---
Each System is controlled by a personal computer.
---
Setup of current user(AIDA group). Contact person :T.Tsuru
---
Contact person with Hydrogen Target system:S.Ishimoto ,S.Suzuki
Last updated 96/08/21 by S.S